Bachelor of Art in
New Media Production

The
Bachelor of Art in New Media Production
(
NMP
) major
is an interdisciplinary program that includes courses offered in art, communication, information and technology management, music and writing, and is administered collaboratively by these departments. The program focuses on designing and creating applications for interactive media, mobile platforms and the Internet for both commercial and artistic intent.

NMP

studies the associations between these areas in the context of academic scholarship, aesthetic exploration and technical research. After completing the required courses in the core, the students can choose to concentrate on a specific area and continue their research in the field of their choice, in order to be better prepared for graduate school or the professional world.
Topics of Study
digital arts
history and theory of new media
visual literacy
digital imaging
writing for interactive media
Web design and production

recording and electronic music
programming
interactivity
physical computing



"As with other fields incorporating emergent technology, new-media arts are undergoing constant and rapid change. In the last few years, new media have grown to include animations, blogs, interactive media, design, games, mobile media, desktop interactive works, websites and internet art, time-based pieces, digital installation, performance, sound installations, sculptural works, kiosks, robotics, biological and DNA art, and networked activities."
College Art Association, Guidelines for Faculty teaching in New Media Arts
- Art: creativity
- Communication: structure, content and production
- Music: composition / digital audio
- Writing: New Media
- ITM: New environments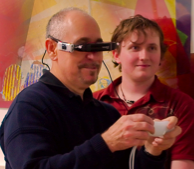 Graduate Programs
•
ITP
•
RISD
•
MICA
•
UMBC